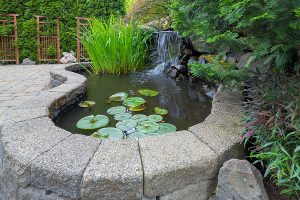 Nothing beats a vibrant landscape to accompany the warmth of summer – except of course a landscape that fulfills a purpose beyond the aesthetic. If you consider your yard an extension of your living space, it makes sense for you to incorporate versatile features into your landscape. Fortunately, there are many options for features – both living and constructed – that can provide you more than just scenery. Let's review some multi-purpose landscape features for summer so you can get the most out of your yard.
Multi-Purpose Plants for Summer Living
Living in New England, the harvest season can come and go in the blink of an eye. Nevertheless, there are many native plants to the region that can offer you a bounty over the summer while simultaneously sprucing up your landscape. Some of the most notable fruit-bearing plants include:
Elderberry Shrubs: If you live in a marshy area of Massachusetts, this flowering shrub will thrive on your property. The white pollinated flowers of this shrub turn into edible berries around mid-August and are perfect for wildlife and humans.
Beach Plum Trees: If you live in coastal New England, you're likely familiar with beach plum trees. Since they are not self-pollinating, you'll need at least two trees to produce the fruit which ripens in late summer.
Blueberry Bushes: As long as you have proper drainage for your soil, blueberries are simple to care for. Blueberries ripen between June and August.
There are plenty more fruit-bearing plants to choose from, but they all provide your landscape with a unique splash of color and a bountiful harvest.
Captivating and Functional Hardscape Perfect for Summer
As summer is the perfect time for hosting friends and family outdoors, you may want to incorporate hardscapes with them in mind. One such landscaping design is a multi-purpose sitting wall. Low retaining walls can provide ample room for guests to sit while also adding dimension to your landscape. Water features are also perfect for summer, as not only do they make your outdoor space more beautiful, but the sound of the moving water is also a great defense against noisy neighbors and street traffic. Any hardscape that provides shade can also offer respite from the harsh summer sun.
These multi-purpose landscape features for summer will make outdoor recreation that much more enjoyable. However, setting up and maintaining a multi-faceted landscape can be difficult to achieve. At Dolan Landscaping, we have everything necessary to complete your ambitious hardscapes and install and maintain your fruit-bearing trees and shrubbery. If you're looking to transform your landscape into a multi-purpose living space, contact us today.