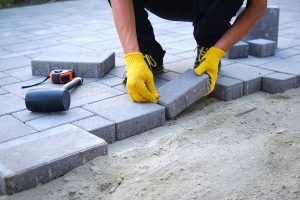 Pavers add a unique aesthetic to your walkways, driveway, and outdoor living space. They add a touch of elegance and cleanliness to everything from poolside patios to porches. However, when deciding the material of your pavers, there are a few details you need to take into account, such as your budget and vision. Fortunately, you have many options when choosing the right pavers for your property.
Concrete Pavers
For a limited budget, concrete is your best option. According to HomeAdvisor, It can run you as little as $2.50 per square foot depending on the style and width of the paver. It's easily molded and installed, and the concrete pavers can even by colored to match your landscape's style. The few drawbacks of concrete pavers include wearing away of the color over time, quicker surface erosion, and shorter lifespan than other options.
Sandstone Pavers
Sandstone is an affordable way to achieve a high-end, upscale appearance to your hardscape. It comes in a variety of colors, and similarly to concrete, is easy to install. It's perfect for achieving a polished outdoor kitchen or multitone patio. The downsides to sandstone include that it's porous, making it more suitable for drier climates, and can stain or scratch easier than other pavers.
Limestone Pavers
Limestone pavers aren't much more expensive than the previous pavers, but as it's not as widely available, so the cost of shipping can sharply drive up the price. While it's easy to install, it's only available in limited colors, so it might not fit with your landscape's aesthetic. Also, it's susceptible to staining, damage from acid rain, and attracts algae growth.
Granite Pavers
You've likely heard of granite countertops, but this material is just as effective for use as pavers. However, this is an expensive paver that is difficult to work with outdoors, making the installation costly. It's one of the heaviest, most durable pavers, making it ideal for pathways, and it can withstand nearly all types of weather, including winter. It comes in a variety of colors, but the rarer colors tend to be higher priced. Other than that, you'll hardly witness any wear and tear, and it's incredibly easy to maintain.
Choosing the right pavers for your property depends on the vision you're attempting to execute and your budget. Regardless of the paver you choose, you'll achieve a sophisticated look to your landscape, especially if you enlist the help of the hardscape experts at Dolan Landscaping. With over 25 years in the business and an impressive portfolio, we can ensure your hardscapes generate stunning curbside appeal. If you would like to inquire more or learn about our general landscape maintenance, don't hesitate to contact us.