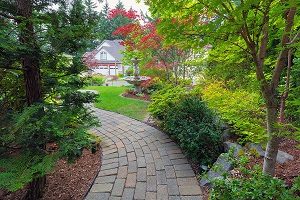 Stone pathways are more than just a pretty feature. They can help prevent damage to your yard as well as provide benefits that go beyond their looks. Walkways are a great hardscape investment to make because they require little maintenance and enhance the overall safety of your property.
Installing Stone Pathways Overcome Problems
Installing pathways can add value to your landscape by helping solve and reduce complications, providing utility, and becoming beautiful accent features. Implementing stone pathways is an easy solution to clean up your landscape for each of the following problems:
Muddy paths: Some homeowners struggle with muddy pathways caused by excess rain or other natural causes. Stone pathways can be installed over unfinished paths, to create new, high-end, walkable paths, while avoiding damage to your grass.
Exposed dirt: Prevent soil erosion from too much exposed dirt by covering affected areas with walkways.
High traffic grass damage: Constant usage from your friends, family, and pets can cause your grass to decline, which will lead to bald spots, compact soil, and weeds. Install a stone walkway over areas of your yard that receives the most foot traffic to avoid excess grass damage.
Benefits of Stone Pathways
Stone pathways will remain an unceasing fixture to your landscape that will allow for beautiful additions without the cost and extra maintenance.
Provides variety: Stones come in all shapes, color, and sizes, which allows your walkway to be unique and personally customized.
Safety features: Inclement weather or low-light situations can be dangerous if walking over grass. Walkways provide a firm walking ground, making maneuvering around your yard safe and easy.
Better foot traffic: Pathways provide better traffic around your home to family and friends.
Affordable: Stone pathways are a cheap hardscaping consideration, allowing you to save money while upgrading your landscape.
Low maintenance: Because stone pathways do a great job managing foot traffic, you won't have to worry about chips or cracks, minimizing maintenance efforts.
As long as your know how to properly prepare your hardscape for the offseason, your stone pathway will prove to be successful in avoiding landscape problems. Stone pathways are a sound investment to extend your outdoor living space and navigation, as well as curb appeal if you ever decide to sell.
At Dolan Landscaping, we're here to help with all your landscaping and hardscaping needs. With over 25 years of experience, we'll make your stone pathway one-of-a-kind. Contact us for more information.