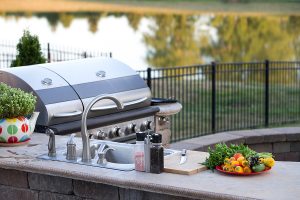 During New England summers, it's typical to see families cooking outdoors, whether it be grilling up some burgers or roasting hotdogs over a fire. But what if you had an incentive to cook all your meals outside? When grilling, you're limited to the features of the appliance, but with an outdoor kitchen, you can save yourself the constant trips inside to use the faucet or fridge. And that's just one of the many advantages of having an outdoor kitchen.
1. Outdoor Kitchens Increase the Value of Your Home
Perhaps the most obvious reason to build an outdoor kitchen is remodelers are earning a high rate of return when installing hardscapes. It expands the living space, increases curbside appeal, and as the appliances are often made of stainless steel, they're easy to clean and don't rust, making it a feature that can be used for many years, if properly maintained in the offseason.
2. Outdoor Kitchens Lessen Your Energy Bill
When you cook inside, your oven and stove are generating heat and offsetting your air conditioner, causing it to work harder to cool the house. When making a meal outdoors, you don't have to worry about this, as you won't be required to consume additional energy.
3. Outdoor Kitchens Keep the Smell Outside
Regardless of whether you enjoy the smell of your food cooking, most people don't appreciate when it lingers. When you're frying fish outside, the cleanup and maintenance are easy. There's no worry of the smell saturating the walls and overstaying its welcome.
4. Outdoors Kitchens are Versatile and Customizable
There's only so much you can do with your indoor kitchen, as it's limited to the square footage of the room. Outdoor kitchens are designed to utilize your backyard and patio space. You can customize the layout, incorporate a dining and living space, and specify what appliances you want, such as a built-in or portable grill, a refrigerator, a sink, lighting, and many other options.
5. Outdoor Kitchens are Great for Entertaining
Regardless of the configuration, outdoor kitchens offer much more space for guests to spread out and enjoy your well-maintained yard. You can prep the meal and your friends and family can play yard games, all while enjoying each other's company. You can even install a weather-proof entertainment system and firepit in your outdoor kitchen to host game nights or watch sporting events.
The above are just a few of the advantages of having an outdoor kitchen. Whether grilling is a way of life or you're interested in providing your renters with outdoor comfort, exterior kitchens are the perfect landscape design. Dolan Landscaping can make your vision of having an outdoor kitchen, other landscape design, or hardscape a reality. If you're interested in inquiring about our services, contact us today.