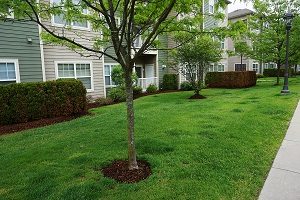 From singular landlords to property management companies, the management of an apartment or apartment complex is just that: complex. However, while you're focusing on the buildings and apartment units themselves, it's important to look at the entire property – most notably your apartment grounds. This article is going to focus on landscaping projects and maintenance that won't only keep current tenants happy, but also help you attract new ones.
Grounds: Plants and Lawns
Most apartments share two things: lawns and garden areas with shrubs, trees, and plants. Keeping both areas well-maintained, ready for the season, and troubleshooting issues is vital to keeping your curb appeal at high levels.
Mulch: This ground covering doesn't only make your landscape visually pop, but also provides benefits to the plants and soil.
Plants and Trees: It's important to keep bushes and trees trimmed and fertilized, but also dealing with issues like tear outs.
Lawn Care and Fertilization: Keeping lawns well mowed is one thing, but the importance of dealing with lawn pests and providing proper fertilization is another.
Lawn Aeration and Seeding: Want to bring your lawn from good to amazing? Think about investing in yearly lawn aeration and seeding to help your lawn grow.
Irrigation Systems: Lastly, it's time to talk irrigation. Make sure your sprinkler systems are in top form, and ready for both the winter and summer months.
Hardscaping: Communal Spaces
If you're looking for something beyond curb appeal, think about investing in a hardscaping project for your apartment complex. This could be something as simple as renovating the walkways to make them more pedestrian-friendly, to creating communal spaces in the form of communal fire pits, patios, or grilling stations. Find the right hardscaping service and the sky is the limit.
At Dolan Landscaping, we specialize in landscape construction and maintenance. We can help you design and create the perfect project for your property, as well as maintain it with regular service and troubleshooting. Learn more about our construction and maintenance services, and then contact us for a consultation.