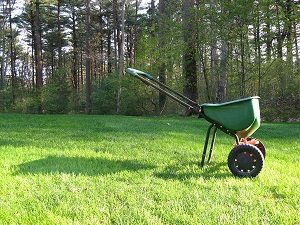 Winter isn't a time for your lawn to shine. Even after you've raked up all the leaves (or mowed them into your lawn), soon all your hard work will be undone. New England winters are famous for their snow, and for that snow starting in November and usually coating the lawn through at least the new year. So over the winter time, there isn't much you can do, right? In this post, we talk about things you can do in the late fall and early winter to help your lawn "spring back" in spring.
Dormant Overseeding Basics
Overseeding is the practice of coating an existing lawn with additional grass seed (as opposed to seeding a lawn, which is starting from scratch soil). This produces thicker lawns and helps balance out any weaker or dead grass patches. Dormant overseeding has the same intent but over a longer timetable. Instead of wanting the seeds to germinate immediately, they are instead introduced to the lawn (along with fertilizer) in early winter. Due to the colder climate, this instead means that the seeds won't begin to germinate until late winter or early spring, hence the term dormant overseeding.
Winter Lawn Care
Besides fertilizing and overseeding in early winter, there are a few other things you can do to make sure your lawn survives the winter with as little damage as possible.
Keep Pests Out: If you can, make sure to give your lawn a bit of a short cut before the frosts and rains come. Ideally, you can lower the lengths of the cut over several mows to help avoid causing any shock to the grass in one big cut.
Keep Your Lawn Clean: Make sure to pick up your lawn, especially before the first snows hit and bury items until spring. This includes furniture, tools, and toys, but also branches or leaf piles: leaving them can cause dead spots come spring.
Avoid Lawn Traffic: When your grass is frosted, frozen, or snow-covered, it's far more susceptible to damage. Make sure to encourage traffic on walkways by keeping them clear of snow and ice. And don't park on
Here at Dolan Landscape, we provide great landscaping construction and maintenance services the year round, including lawn care. If you want help making your lawn more beautiful than ever, or remodeling your landscape entirely, contact us today.