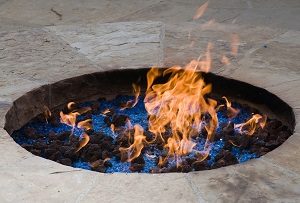 A fire pit is the focal point of any outdoor entertaining area, as people will naturally gravitate towards it. This means you must be very mindful of how and where in your yard it is set up. Fire pits are functional and are a great centerpiece for your next outdoor project.
Fire Pit Placement Tips
For starters, you should always check your zoning and building codes, as well as if you need any permits to build a fire pit on your property. It also should be connected or combined with a patio area, as people love to sit and enjoy the fire. A few good tips for the location of the pit would be to keep it close to the main outdoor area, while still have a defined path between the two. This gives you some separation and balance in your yard's landscape, keeping it from feeling lopsided or overloaded too much to one side.
Choosing Your Type of Fire Pit
There are two main types of fire pits:
Wood Fire Pits: the classic and traditional fire pit are very simple to use. Just light the wood on fire and continue to add more when the flame gets weak. They are the most affordable and have a natural warmth that cannot be matched by any other style of fire pit.
Gas Fire Pits: These run using a gas burner and either propane or natural gas. They use imitation lava, ornamental glass, ceramic logs, or other similar elements (silica beads) to create a modern, contemporary look. They burn much cleaner than a wood fire pit, but they are also more expensive.
Choosing Your Style of Fire Pit
There are also two definitive building styles of fire pits:
Raised Fire Pits: The traditional building style of fire pits, consisting of stacked or connected hardscape materials that rise at least a foot or so off the ground. This gives a large space on the inside to build the fire as well as a safety barrier from those gathered around the fire pit.
In-ground Fire Pits: They are typically used for gas burning pits, but can be used for traditional wood fire pits as well. They are a dug out hole in the landscape lined with hardscape materials such as brick or stone, and are a much more modern-day look, albeit more open to the wind. Make sure to be careful of the placement of the pit, as in-ground fire pits are more of a tripping hazard.
Consider your budget, landscape space, and your style needs while choosing the type of fire pit you want in your yard.
Building your Dream Fire Pit
Now that you have figured out what type and style of fire pit you want, Dolan Landscaping can design and build your fire pit from the ground up. Contact us to get your project started. We have years of stonework and hardscape expertise to make your dream fire pit a reality.