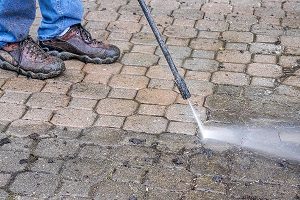 From patios to walkways and retaining walls, the hardscape on your property is both functional and beautiful. And while a well-made hardscape will last for years, it's important to spend some time each year making sure it's not only looking its best, but also still structurally sound. Below you'll find some basic tips for maintaining your hardscape as well as making sure it stays beautiful for years to come.
Hardscape Maintenance
A well-designed and built hardscape should last for years without any major work needing to be done. However, it's important to check on your various types of hardscape from time to time, especially after any major weather (heavy rains, floods, snow, or ice) or with hardscape that existed when you moved in.
Walkways: Check your walkways for cracking, washouts, and bumps or slumps. Cracking can be caused by ice damage or weed growth, while irregularities might indicate either the lower layers of the hardscape are eroding or expanding.
Patios: Much like with walkways, check to see if there is cracking or signs of erosion. Patios that are slumping in the middle are often a sign of a poor patio foundation and may need to be replaced.
Retaining Walls: It's important to make sure your retaining walls are draining properly. Check to make sure the drains are unclogged, and check for signs of pooling or overflow along the brim of the wall to avoid damage to the wall.
Cleaning Hardscape Surfaces
While dealing with the above issues will usually require a contractor to survey and repair the damage (or replace it entirely), below are some tips on how to help clean and extend the life of your hardscape.
Sweeping and Brushing: Make sure to clear off your patio during the fall before the snows bury it. In the spring or summer, make sure to scrub off leaves and any moss, lichen, or algae growth to avoid discoloration.
Weed Removal: Clearing out weeds not only makes for a better-looking patio but can also help cracks from forming in the hardscape.
Power Washing: If you have discoloration or have a lot of patio to sweep or brush, consider hiring a power washer or contractor with one. Not only can this get stuck-in discoloration, but it also makes cleaning hardscape a breeze!
Looking for help maintenance or repair of your existing hardscape, or looking for a brand new patio, walkway, or retaining wall? Contact Dolan Landscaping of Paxton, Massachusetts. We're experts in both the maintenance and construction of all types of landscaping, from lawn sprinkler systems to patio fire pits and everything in between.