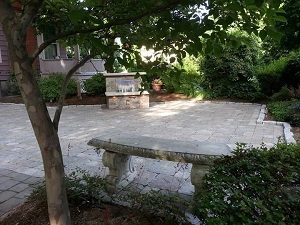 Patios are a wonderfully flexible way of extending the living space of your home, allowing you to work, play, and relax just a few short steps from your door. If you're looking at getting a patio installed, you have many options on the design, to both suit the needs of the space for you, as well as a style that complements the rest of your home and landscape. Below are some basic design and feature ideas to give you an idea of the possibilities available for patio construction.
Materials and Sizes
The great thing about patios is the wide array of materials you can use, from decorative brick to permeable concrete pavers. The right choice for your patio will depend on your needs, aesthetics, and the size limitations of your home. A few things to keep in mind when thinking about style:
Picking the Right Size: The great thing about patios is they can be customized to fit your outdoor spaces. Looking for something to fill a niche in your backyard or to lead into the garden?
Picking Complimentary Materials: Patio materials have different strengths and weaknesses. Talk to your contractor about your needs but also your budget. Ask for them to bring samples of materials.
Elevation and Pathways: A patio doesn't need to be a large square of stone off your backdoor. Explore linking your patio to other backyard elements like walkways or a swimming pool.
Adding in Patio Features
Beyond the basics of a patio, additional features can be added to add comfort, utility, and ambiance to your patio and backyard. Below are a few examples:
Seating: A great addition to patio furniture, built-in seating can help frame your space or other features of the patio.
Kitchens: Want to get a step up from a BBQ? Get a full grill and countertop space with storage and more for hosting the most memorable of summer parties.
Firepits: How about a nice place to sit around the fire? Patios can be used to cover gas lines for propane and natural gas firepits. Make sure to check out our full blog on firepits.
Fountains: Add the sound of running water to your backyard, as well as a place to cool off for the natural wildlife or pets.
Now that you've got some ideas of the designs and features that a patio can have, Dolan Landscaping can help you design and build it into a reality. Contact us to get your project started. We have years of stonework and hardscape expertise to make the perfect patio for your place.