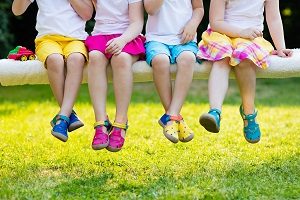 Summer is a great time to get out there and enjoy your lawn, from fun and games on the front lawn to a nice relaxing afternoon in the backyard. However, summer can also bring some issues you need to deal with to avoid lawn damage and a high water bill, something especially important in drought conditions. Below are some tips and tricks for summer lawn care and your irrigation systems so you can get the most out of them and avoid troubles down the line – letting you enjoy more of your summer!
Know Your Type of Lawn
First, it's important to know the grow cycle of your lawn. If you're in New England, chances are you've got a cool season grass lawn, while moving south increase your chances of having a warm season lawn. The difference? Cool season grasses tend to go dormant in the summer, often left to "brown out" by homeowners who don't want to spend the time and money to water them. Warm season grasses thrive in the summer (as long as they are watered). Check out our blog, Warm Season Grasses vs. Cool Season Grasses, for more information and care tips.
Smart Watering for Summer
If you're not interested in having brown lawns for summer, it's time to break out the lawn irrigation. If you don't have one already, an in-ground lawn irrigation system is a great investment for your lawn to help you savie  time and reduce your water bills, especially in the summer. Regardless, you should conserve water for both the environment and the rising costs: setting a timer to water one to two hours before sunrise will allow plants to wake up with water and avoid evaporation. Look at short water cycles each day instead of longer ones to also help with absorption. Monitor for water runoff.
Dealing with Lawn Care Issues
Beyond knowing the growth cycle of your lawn and when and how to water it, there are a few other lawn care tips to keep in mind:
Dolan Landscaping has been at the forefront of lawn installation and lawn care for over 25 years. Contact us for expert lawn care techniques and technology, with lawn fertilization and maintenance services as well as irrigation system services to keep your lawn looking fresh and lush all year round.