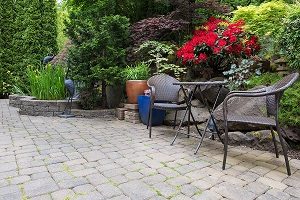 Hardscaping can considerably improve the appearance of your home by creating additional space between a home's interior and exterior. Your overall outdoor living space can be the centerpiece of your landscape, allowing for an expanded and open gathering spot for family and friends. From patios and outdoor kitchens to driveways and walkways, hardscaping is the perfect solution to enhance your home's exterior for both work and play.
What is Hardscape?
Hardscaping is the use of either natural or manufactured stone to create patios, walkways, driveways etc. Hardscape provides definition and a sense of organization to the natural areas and features of your yard. Our hardscaping services include:
Patios
Walkways
Concrete brick paver driveways
Permeable concrete pavers
Retaining walls
Cleaners and sealers for brick
Concrete and stone
Granite steps, posts, and cobblestones.
Benefits of Hardscape
Hardscaping is a great way to increase the appeal of your landscape and functionality. Some benefits include:
Low Maintenance: Once your hardscape is designed and built, parts of your backyard will be set for years to come. Unlike traditional landscapes that require constant watering, mowing, pruning, and trimming, the parts of your yard with hardscape installments offer a nearly yard-work-free environment. The most you may have to do is clean your hardscape which is also quick and easy.
Water-Efficient: Hardscaping is a great solution to fight water waste because you won't have to worry about watering plants or grass.
Increase Property Value: This outdoor extension to your home adds more usable square footage and allows your home to have a better chance of attracting buyers because outdoor living spaces can be a huge selling point.
Extend Entertainment Space: A backyard hardscape increases your family's outdoor experience with more places to sit and socialize with one another.
Add Dimension: Add verticality to your yard that is pleasing to both the eye and flow of the landscape with raised gardens, retaining walls, and hardscape paths and steps.
Why to Invest in Hardscaping/Landscaping
Not only are the benefits of hardscaping reasons to invest, but for many projects, the return on investment (ROI) is significant. Hardscapes that offer the most ROI are projects such as patios or walkways because they expand the living area, add sociable features, and often increase the safety of the home.
Importance of Choosing a Trustworthy Company
Choosing a trustworthy company like Dolan Landscaping for your hardscape services is important to ensuring its upkeep and well-being, allowing your hardscape to last for years. Hardscape is not just a one-time job as it requires a time commitment with a lot of involved work, which is why Dolan Landscaping might be right for you! For further information on how to create the perfect hardscape for your home, contact us at Dolan Landscaping today!
For further readings about the perfect hardscape for your landscape, check out some of our other blogs about hardscape firepits, patios, and concrete paversers.