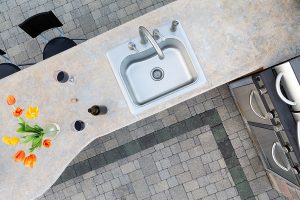 Football season is in full swing, and while the pandemic may be preventing you from inviting your friends into your living room to watch the game, you're not completely left without options. Whether you're looking to safely social distance or want to enjoy the final days of tolerable New England weather, hardscapes are your best bet when it comes to hosting a sizeable gathering. If you're thinking about upgrading your backyard tailgating with kitchen and bar hardscapes, let's review some things to consider first.
Plan Ahead for Your Backyard Tailgating Hardscapes
Outdoor hardscapes – such as kitchens and bars – add value to your property, provide ample space for entertainment, and allow you to host guests without the hassle of a giant indoor mess. Despite all the benefits, it's important to plan before installation. Prior to meeting with a landscaping contractor, discuss the project with your family and determine the best place in your yard to build the hardscape. You also want to make sure you hire the right contractor, which means you should check references and testimonials and establish a time for them to survey the property before installation.
What to Consider in an Outdoor Kitchen and Bar Design
Once you've nailed down the feasibility, location, and contractor for your hardscape, it's time to choose a functional and aesthetic design that suits your needs. The following are some elements to consider for your outdoor kitchen or bar:
Provide Shelter: It's rainy in New England, and if the goal of your hardscape is to host some backyard tailgating, then you'll need some cover for your television or projector and your guests. Consider building your kitchen or bar beneath a deck, overhang, or standalone roof.
Install Lighting: To ensure you can host late gatherings or a backyard tailgate for an evening game, ensure you have the appropriate lighting to prevent trips and falls.
Upgrade the Surrounding Landscape: Planting some colorful shrubbery or flowerbeds can frame your hardscape and make your outdoor space feel more comfortable.
You can also choose pavers for your outdoor kitchen or bar so that you can add a sophisticated look to your landscape.
Whether you're an avid sports fan, frequently hosting events, or simply a seasoned griller, you have plenty of options when it comes to backyard tailgating. Not only will an outdoor hardscape ensure there's ample room for guests, but it's perfect for hosting socially distanced gatherings. At Dolan Landscaping, we can plan and construct your dream hardscape and take care of the surrounding landscape to give it an aesthetic curbside appeal. If you're interested in upgrading your household events, contact us today.