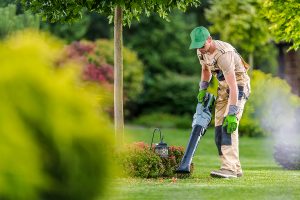 If you're considering investing your money in a professional to maintain your landscape this spring, it's important to realize not all landscaping companies are created equal. It's easy to fall into the trap of hiring the first landscaping company you happen upon, but if you rush your decision, you may be left with a subpar landscape design and maintenance as a result. You want to invest in a multi-faceted company with a track record of reliability and flexibility. Let's discuss some of the most important things to look for in a landscaping company.
Seek a Multi-Faceted and Experienced Landscaping Company
If you're looking for a landscaper to design, revamp, and maintain your yard, you need a company that's willing and able to do all three. They'll know which plants are suitable for your landscape's conditions and which will persevere in your region's climate. Hiring a landscaper with construction experience will also benefit you when you want to install a patio or water feature in your yard. If they also perform snow and ice removal services, they'll also have a familiarity with the layout of your landscape to avoid damages.
Choose a Landscaping Company with Proper Licensing
While Massachusetts-based landscapers aren't required to have a state license to perform some of their duties, companies that apply pesticides need an applicator license provided by the state's Department of Agricultural Resources Pesticide Program. If you intend to hire them to build hardscapes or perform construction on your property, they also require a landscape contractor license. You can request their proof of insurance to ensure they are well qualified for the job.
Hire a Reliable and Flexible Landscaping Company
You can measure the reliability of a landscaping company based on how long it takes for them to get back to you. Also, you want to invest in a company that can deliver upon what they promise. As for flexibility, a company should be able to reschedule or pivot if a job becomes more complex than anticipated. How they react to unexpected situations – such as storm damage – should be a testament to their flexibility. A great way to research their credentials is to view their customer testimonials and work portfolio.
Determining what to look for in a landscaping company can take some time and effort, but it's is a surefire way to ensure you're pleased with the results of your project. At Dolan Landscaping, we have everything you should look for in a landscaping company. We perform everything from landscaping design and hardscaping to maintenance and snow removal. If you are interested in recruiting us for your next project, contact us today.