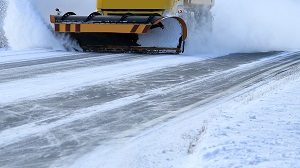 Are you prepared for this winter's snow storms? If your property needs a commercial snow plow, you need to call a company now. Being ahead of the winter conditions will benefit you in the long run especially with the unpredictable weather of New England. Be ready with a few questions that will help you determine what to expect from this company and if it is a good fit. Know your budget, the size of the area that needs to be cleared, and what to expect on snow days. Ensure the safety of your employees by choosing the best snow plow company for your business.
What is Your List of Services?
It is important to know what your commercial snow plow will and will not do. If your business or property is larger or needs special attention in certain places, it is important to note them.
Here are some examples of questions you can ask:
What specifically do you clear? Tell them of any places that need extra attention.
Do you use any sort of deicers? Some businesses have their own deicers, so you won't need to buy your own, but note this could be an extra cost.
Do you take the plowed snow elsewhere? You should know if your company stacks the snow on the property, so you can prepare for safety precautions.
What Does the Snow Plowing Cost Cover?
After asking the questions above, you should follow up with what exactly the price is covering. This will be helpful to know when you are given a price, if the number is covering a couple snow removals, or if they are doing the entire season. Sometimes the price can be misleading, such as when you think you have a company for the entire season, when in fact they are only around for a few plows. You also do not want to be surprised by the costs you did not know of. You will know what to expect from the package, along with what you need to add if you need to add more services.
What Does Storm Turnaround Time Look Like?
Snow plow companies have many different clients they need to attend to. With that in mind, you want to be sure there is enough turnaround time for your business to get up and running. This will give you a good idea on what you should expect the day after a storm to inform your employees, clients, and visitors.
Do You Track Your Employees and Equipment?
If they have a method to their madness, then there should not be an issue going forward, and you will have the confidence someone will be there after a storm. If by chance someone doesn't show up, then you can call your company. This is also helpful to know because if there was a mistake or a part of your parking lot, walkway, etc., was not cleared then they will be able to note who is at fault.
High Tech Solutions
Some companies track their equipment. With this technology, they will know how much to bill you through their GPS system. You will be billed by the amount of time it took for them to clear your property.
Get your commercial snow plow company under contract before the snow hits.  At Dolan Landscaping we provide commercial and residential clients full-service snow and ice management. We only use commercial-grade and well-maintained equipment to provide the best snow plowing, snow blowing, salting, sanding, snow stacking, and snow removal. Call Dolan Landscaping today, and we can help get your snow cleared this winter.